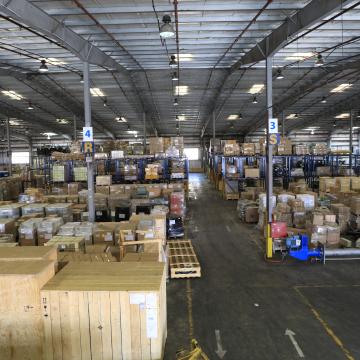 ALV's 10,000m2 CFS handles more than 3,500 TEUs of less-than-container-load cargo annually. These are containers housing cargo of all kinds that belong to more than one consignee. Sorting, storing and distributing these shipments require high process efficiency.
Aqaba Logistics Village announced the new LCL tariff on April 2017 after publishing it in the official Gazette on the 16th April 2017 to become as per the following :
Off-Loading Fees (to be paid by shipping agent):
20` Container: 180 JDs + 20` THC charges* (According to ACT approved tariff currently 64.8 JDs total 244.8 JDs)

40` Container:  220 JDs + 40` THC charges (According to ACT approved tariff currently 97.2 JDs total 317.2 JDs)

Any additional charges paid by ALV to ACT on behalf of shipping lines will be added on their invoices. 
Storage Fees (to be paid by the client):

 First 6 days: free of charge

 From 7-12 days                (0.5) JD per CBM/Ton whichever is higher

 From 13-18 days             (1) JOD per CBM/Ton whichever is higher

 From 19-24 days             (1.75) JDs per CBM/Ton whichever is higher

Thereafter 24 days           (2.2) JDs per CBM /Ton whichever is higher

 

Loading Fees (to be paid by the client):

6 JDs per CBM/Tons whichever is higher

Inspection Fees (to be paid by the client):

​​​​​​​6 JDs per CBM/Tons whichever is higher